Performance "Rapunzel"
Spazio Paraggi, via Pescatori n. 23 - Treviso
Free

Duration :

1h30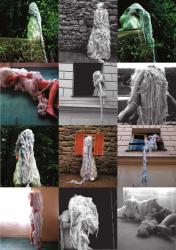 Since 2007, Italian young artist Manuela Centrone has been working on the topic of feminine long hairs, finding inspiration in mythological, literary and fairy tales characters.
Using performance as medium of expression, the artist gives life to impressive wigs made of fabric, cotton threads, wool yarns and other diverse materials.
She uses this display as a frame to talk about women, their expectations, hopes and ways they relate to others.
http://www.spazioparaggi.it, http://www.trevisoricercaarte.org/2009/06/01/rapunzel-performance-di-manuela-centrone/
Spazio Paraggi, via Pescatori n. 23
Treviso